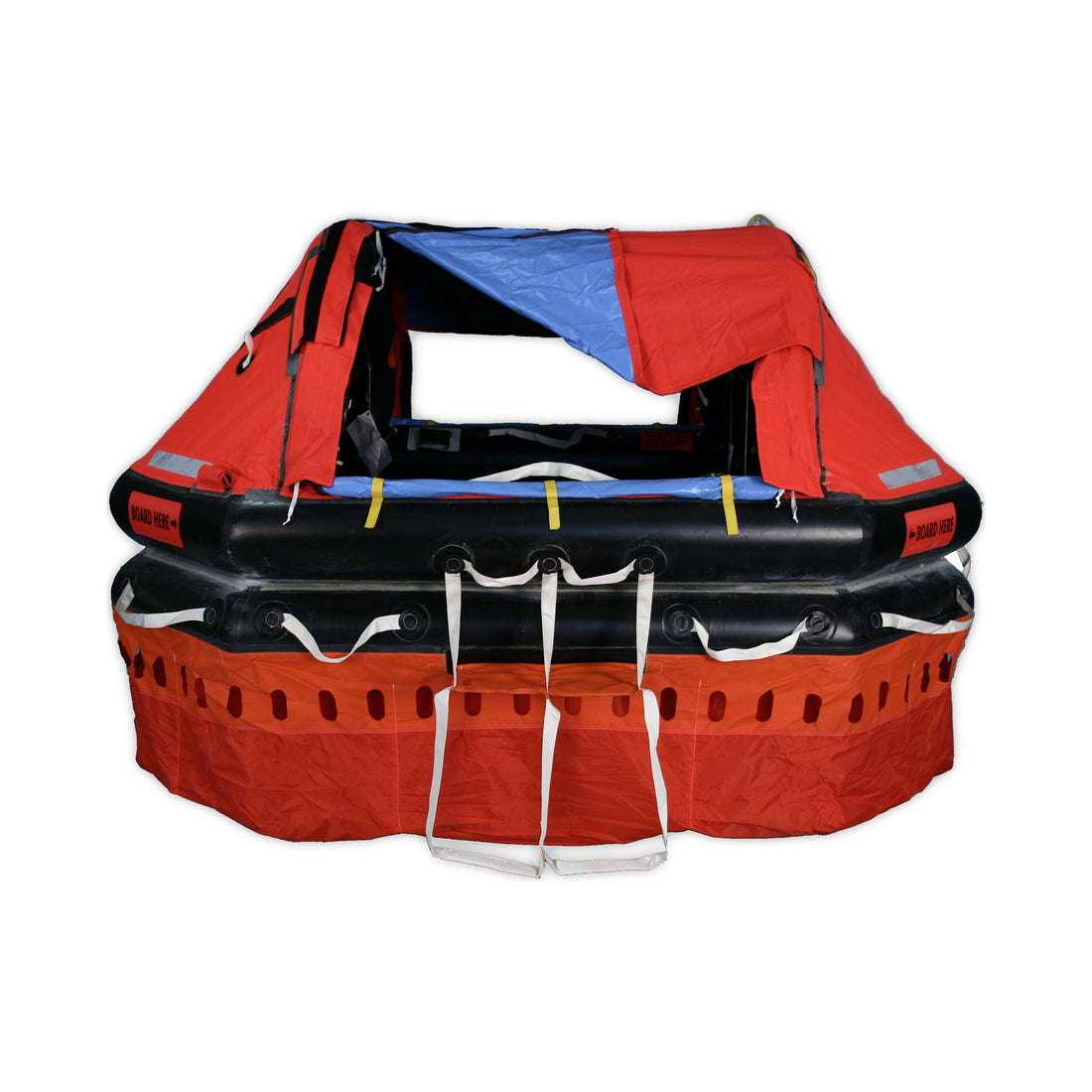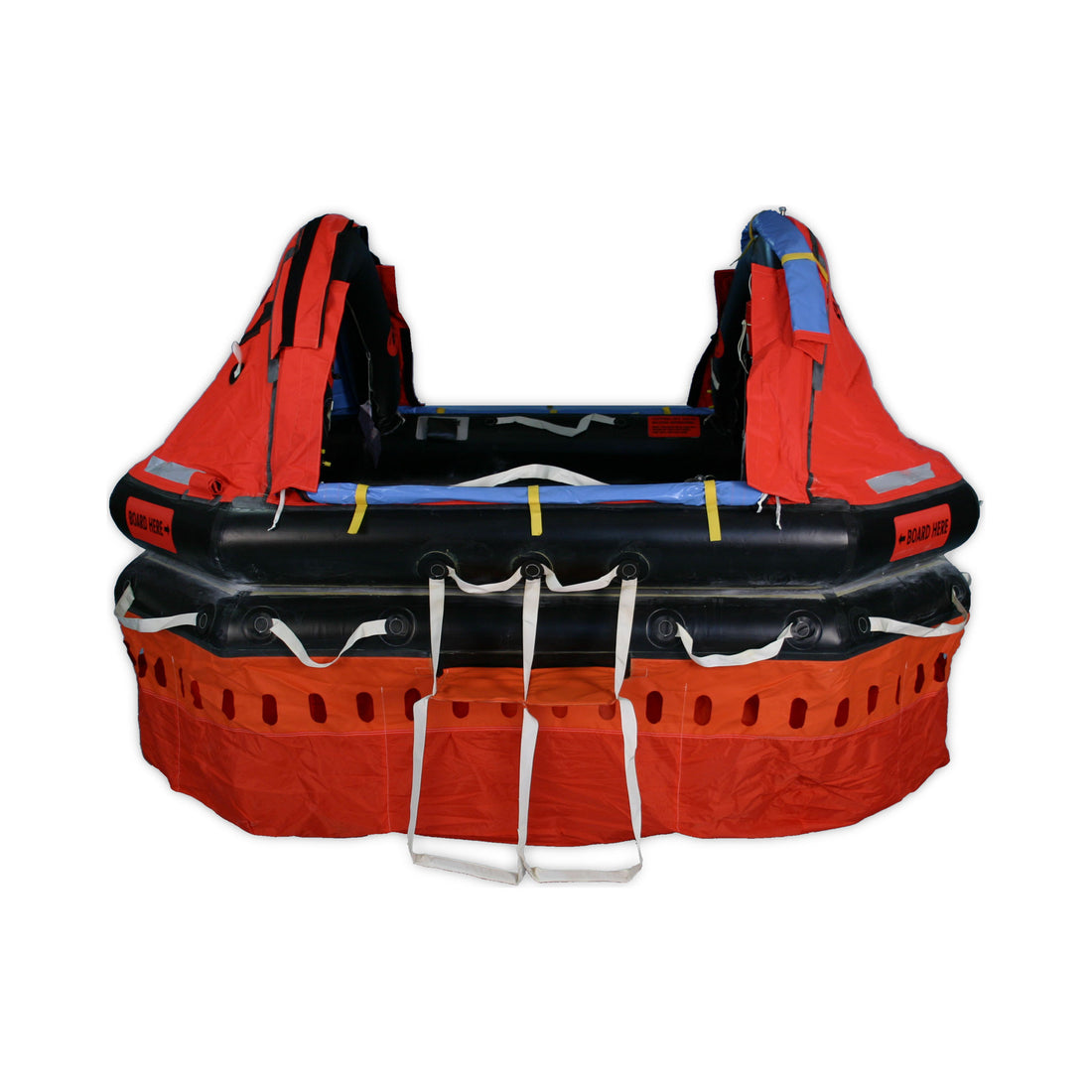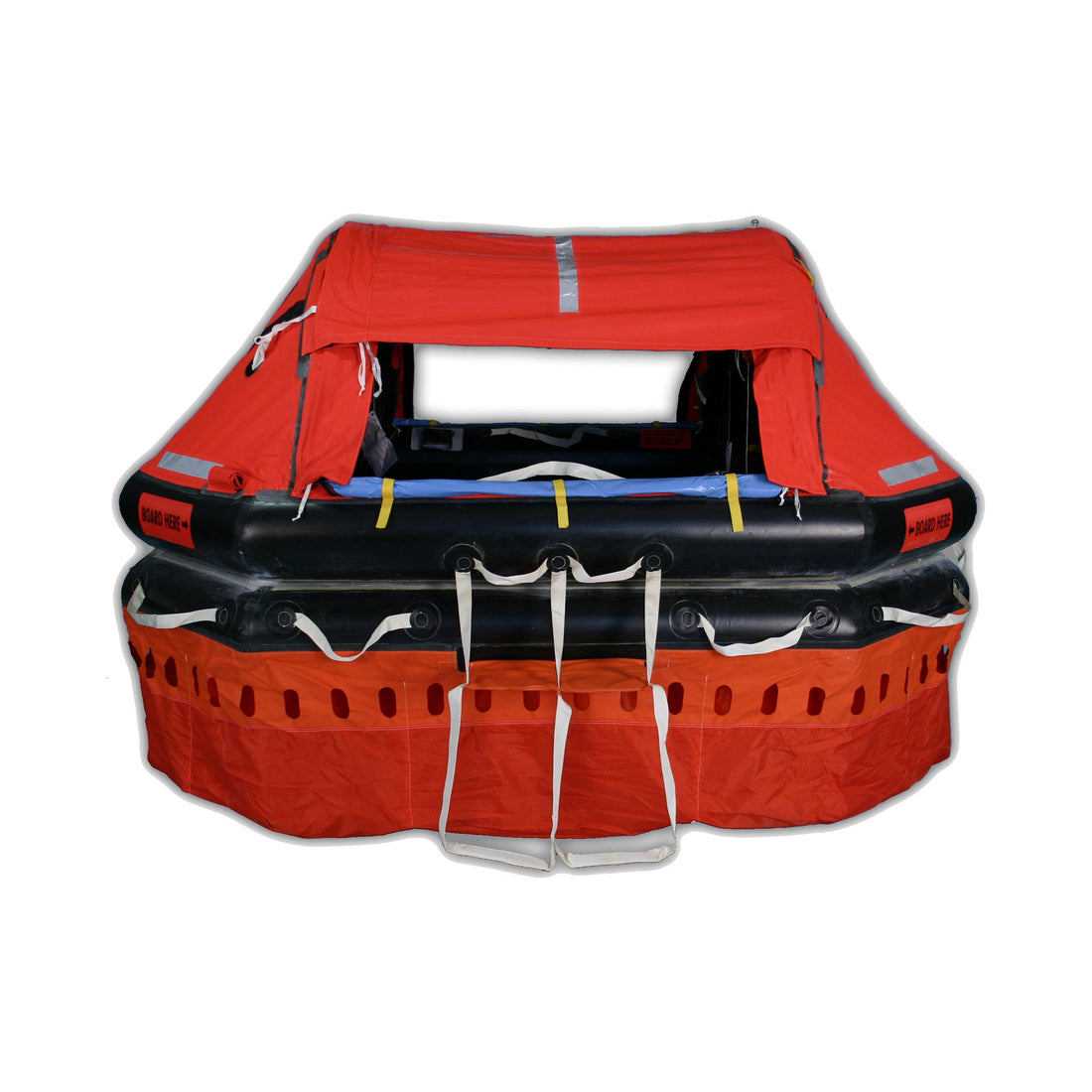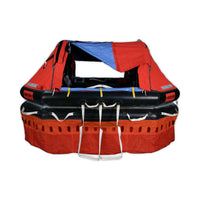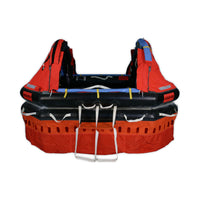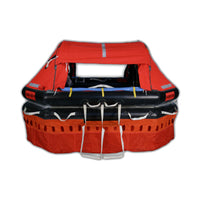 SAR-6 Transoceanic Life Raft
The SAR-6 is the world's finest blue water offshore life raft. As the choice of numerous professional search and rescue teams around the world, the SAR-6 is built from the bottom-up to keep you safe and give you peace of mind in any sea conditions. This rugged transoceanic life raft is constructed of our Nylon-HD upgraded tube fabric and features an auto erecting convertible canopy, twin oversized tubes, and the patented Toroidal Stability Device for the ultimate stability. The boat shape design of the SAR-6 provides extra leg room for six people and offers the highest level of stability and protection from the elements, while our unique canopy design circulates fresh air throughout to mitigate seasickness and keep morale high. 

The SAR-6 MKII is the marine version of the air-droppable life raft (Model LRU-20) we design for the United States coast guard's helicopters and fixed wing aircraft along with the Royal Australian Air Force.
Hand laid fiberglass case. Mount it to the deck or store it in an easy to access compartment for quick deployment. Either pack method will provide years of protection ensuring your raft will work in a time of need.
NOTE: Expected Shipping within 1 week.
Two (2) boarding steps with reinforced floating ladders
Twin independent buoyancy tubes -
The high freeboard keeps the water out while the independent chambers provide redundancy in case of a tube failure. 
Nylon-HD
(840 denier) Buoyancy Tubes Coated on Both Sides with Abrasion Resistant Urethane featuring over-lapped seams taped inside and out
SOLAS-grade reflective tape and patches located all around the raft
Water collector in canopy
Automatically activated Exterior Light
Automatically activated Interior Light
Sea Anchor (automatically deployed)
Convertible Canopy System
Air-Charge inflation system
Heat Sealed Technology
Toroidal Stability Device
5-Year Service Interval (3-year configuration available)
| | |
| --- | --- |
| Fiberglass Hard Case: | |
| Weight1: | 121 lb. (55 kg.) |
| Dimensions2: | 36-1/2" (L) x 24" (W) x 13" (H) |
| Material | Hand Laid Fiberglass |
| Aluminum Cradle Material | AL 6463 T55 |
| | |
| Life Raft: | |
| Buoyancy in Fresh Water: | 1,500lbs. (680.3kg.) |
| Buoyancy in Salt Water: | 1,540lbs. (698.5kg.) |
| Inflated Raft Dimensions: | 99" (L) x 69" (W) x 48.5" (H) |
| Floor Area (Total): | 24.5 sq. ft. (2.3 sq. m) |
| Operating Temperature Range: | -22°F to +160°F (-30°C and +66°C) |
| Inflation system: | Air |
| Buoyancy tube fabric: | 840 Denier Double Coated Nylon |
Weight may vary depending upon options.

Optional Cradle will extend the overall installed height and width dimensions of the Hard Container by approximately two inches.

Weight includes Cradle, Hydrostatic Release, and Inflatable Floor.

Weight includes Inflatable Floor.

Abandon Ship Bag Weight and Dimensions Include Additional Equipment Required by ISO 9650, Part 1, Equipment Pack 1 (>24 hours).
**Specifications are subject to change without notice.
Capacity:
There is no one universal method of rating raft capacities (see here). In fact, there are several different methods and governmental agencies worldwide that rate the capacity of a life raft based on the following criteria: usable floor area, inflated buoyancy, size of an average individual, and their concept of how long someone might be in the raft before rescue, not to mention how you find yourself to be there, i.e. from a sinking vessel or a ditched aircraft.
As a result, SWITLIK takes the position that a life raft's capacity is truly defined by its total size in floor area and inflated buoyancy. How many "people" that translates into depends upon your usage and interpretation of the above criteria. A raft that might safely support 6 or 8 people in an emergency for 24 hours will seem a lot smaller for a transoceanic passage where rescue might be weeks in coming.
| | | |
| --- | --- | --- |
| Raft Equipment | Survival Equipment | Signaling Equipment |
| Raft Repair Clamp Kit (1sm 1 med. & 1 lg.) 3ea. | | USCG Approved/ SOLAS Parachute Flares (2) |
| Hand Inflation Pump with 5" Extension 1ea. | Immediate Action Placard Hanging from Arch Tube 1ea. | USCG Approved/SOLAS Hand-Held Flares (3) |
| Pressure Relief Valve Plugs 6ea. | USCG Approved folding Utility Knife 1ea. | USCG Approved Signal Mirror (1) |
| Spare Military Specification Sea Anchor (with 50' Rode) 1ea. | | USCG Approved Flash Light (1) |
| | USCG Approved Fishing Kit 1ea. | |
| | USCG Approved Food Rations 60,000kJ. | |
| | USCG Approved Drinking Water 66oz. | Dye Marker (Military Specification /Mil-S-17980) (1) |
| Water Proof Equipment Bag (Large) 1ea. | | |
| Equipment Bag (Small) 1ea. | | |
| | Compass (Lensatic, Liquid Filled-#468) 1ea. | |
| | Sea Sickness Tablets 36ea. | |
| | SPF 25 Waterproof Sun Screen 4oz. | |
| | | |
Optional Equipment:
Marine Grade (6463-T55) Anodized Aluminum Deck Mounting

Cradle for Hard Container

USCG Approved Hydrostatic Release

Independent "Drop-Stitch" Inflatable Floor

Independent Heat Sealed Inflatable Floor

SWITLIK Abandon Ship Outlet Bag

Recovery Engineering "06" Water Maker
| | | |
| --- | --- | --- |
| Model | Part # | Description |
| SAR-6H-STD | SAR-6100-137 | SAR-6, container, STD equipment w/ Heat Sealed Floor, *5 year service |
| SAR-6H-EXT | SAR-6100-127 | SAR-6, container, EXT equipment w/ Heat Sealed Floor, *5 year service |
| SAR-6H-STD | SAR-6100-117 | SAR-6, container, STD equipment w/ Heat Sealed Floor, 3 year service |
| SAR-6H-EXT | SAR-6100-107 | SAR-6, container, EXT equipment w/ Heat Sealed Floor, 3 year service |
| CRADLE-SAR-STD/EXT | S-2231-X/S-2233-X | SAR 6 Cradle - Standard/Extended |
| CRADLE-SAR-6-MED | S-3274-XX | SAR 6 Cradle - Medium Profile |
| FLOOR-SAR-6-INFAB | | Inflatable Floor Upgrade |
| HYDRO-SAR-6 | S-2216 | Hydrostatic Release |